Allocation of Funds
Building Strong Survivors has raised a cumulative total of over $100,000.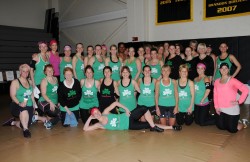 You each made a difference in the community by fundraising. We think it is so important that you all know exactly where the money goes, so we have given you a brief overview of how it is split up within the community
Part of the money raised has gone to the pediatric intensive care unit in The Children's Hospital at Albany Medical Center to purchase things like rocking chairs, infant swings, Xbox games, DVDs, DVD players, portable TVs, arts and craft supplies, and gas cards so family members can get their children back and forth to treatments.
It has also helped fund multiple weekend retreats for Camp Bravehearts, an organization for women that have been diagnosed with cancer to go have life-changing experiences like climbing high ropes, white-water rafting, jewelry making, archery, and overall having opportunity to be with women in similar situations to support one another.
It will also support research, education, advocacy and patient services.
New this year, we have started a grant fund that will be able to award an individual or group that needs critical and/or specific help.